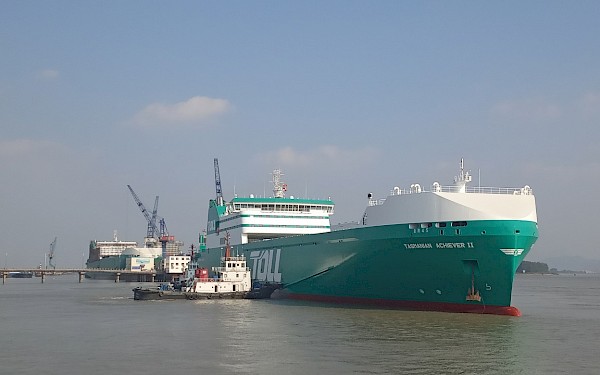 First of two new Ro-Ro ships delivered
Tritec Marine has overseen delivery of the first of two new-build Ro-Ro vessels destined for service between Melbourne and Tasmania.
The Tasmanian Achiever II was delivered in JinLing Shipyard, Nanjing, China on Thursday 25th October following two years of work between the shipyard, Tritec Marine and vessel owner Toll Group.
The second vessel, Victorian Reliance, is expected to be delivered by the same parties in December.
Hugh Wilson, Project Manager, Tritec Marine has been involved in the project since its inception.
Hugh said: "Tritec Marine have delivered a range of services for this project since January 2016; from initial contract specification, to plan approval, to ship yard selection, to machinery testing and finally management of onsite construction.
"It is very satisfying to see the successful delivery of the Tasmanian Achiever II and we all continue to work towards a concluding delivery of the Victorian Reliance.
"This has been a very complex project, but by working closely with Toll and with JinLing Shipyard, both vessels meet all contract specification requirements and will operate successfully."
Following delivery, both vessels will sail on a dedicated daily 'lifeline' service between Melbourne, in Victoria and Burnie, in Tasmania, carrying trucks, cars and MAFI trailers with refrigerated containers.
The ships will replace two existing smaller Toll vessels that have been working on this same route for the past 19 years.
David Scott, General Manager, Tritec Marine added: "The delivery of the Tasmanian Achiever II further demonstrates the capability of our experienced and skilled project teams at Tritec Marine.

"By working closely with our clients, we can deliver bespoke new-build project management for any vessel or offshore asset type, from concept to delivery."
ENDS