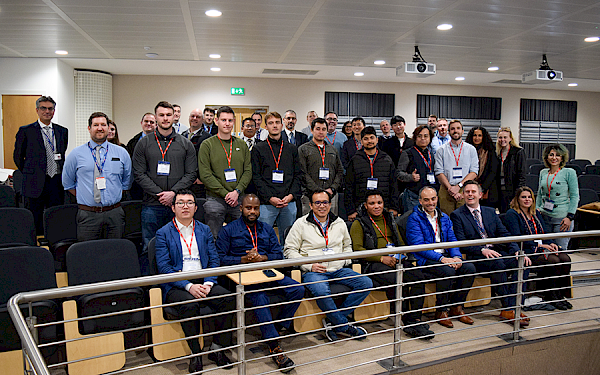 Tritec Marine welcome award-winning academics to international green shipping event
Green shipping was the shared focus when award-winning Canadian engineering academics and Strathclyde University students joined Tritec Marine in its head office for a special event on Friday 4th November.
Keena Trowell, Assistant Professor of Mechanical Engineering at McMaster University, Ontario and Pascal Boudreau PhD candidate in Mechanical Engineering at McGill University, Montreal, recently won a student team competition arranged by the British Consulate-General (BCG) in Montreal to find the best student-developed solution to greening the shipping industry.
As part of their prize, the pair joined representatives from the BCG on a week-long tour of the UK where they met fellow academics and companies operating at the vanguard of sustainable shipping.
The trip culminated with an afternoon event in Tritec Marine's Glasgow auditorium where presentations were shared on respective projects on zero-carbon fuels in shipping, such as hydrogen and ammonia, as well as respective required transportation solutions and infrastructure.
Tritec Marine itself is working on innovative sustainable shipping solutions, including the recently announced MOU with Provaris Energy Ltd, who intend to build compressed hydrogen carriers.
George Mermiris, General Manager & Director, Tritec Marine said: "It was a pleasure to welcome Keena, Pascal, representatives from the British Consulate General in Montreal and the many talented students from Strathclyde University's school of Naval Architecture, Ocean & Marine Engineering to our facilities.
"It was a tremendous opportunity to share information and opinions on respective projects which are all contributing towards answering the most important and fundamental question of our industry's history: how do we achieve truly sustainable, commercially viable shipping solutions?"
Following the event, Keena and Pascal added in a joint statement: "We were very grateful for the opportunity to present our project on greening the shipping industry using aluminium water reactions to produce hydrogen to students, naval architects and marine engineers from Tritec Marine and Strathclyde University. The feedback we received will be very valuable as we look to advance our research."
ENDS
Notes:
Background
The British Consulate-General (BCG) in Montreal organised a student competition to find the best student-developed solution to greening the shipping industry, and an opportunity for students to develop their skills and expertise in developing transformational solutions to a complex global issue. The BCG Student Competition 2022 aims to strengthen relationships between the UK and Canada and help them achieve their net zero targets. Led by the UK's Science and Innovation Network in Canada, this competition is looking to engage with the student community in Quebec to address key technology challenges, with a specific interest in exploring new techniques and applying hydrogen technologies to help decarbonise the maritime sector. And, it builds on this summer's first ever visit to Canada of the UK's polar research vessel HMS Protector.
Tritec Marine
A Naval Architecture and Marine Engineering agency consisting of highly qualified Naval Architects, Marine Engineers and Project Managers all motivated to create and supply tailored, innovative and sustainable solutions.
Operating on a global scale, the Company provides support to some of the world's leading ship owners and major energy companies.
Tritec Marine is a wholly owned subsidiary of Northern Marine Group, and in turn part of Stena AB, one of Sweden's largest privately owned companies.