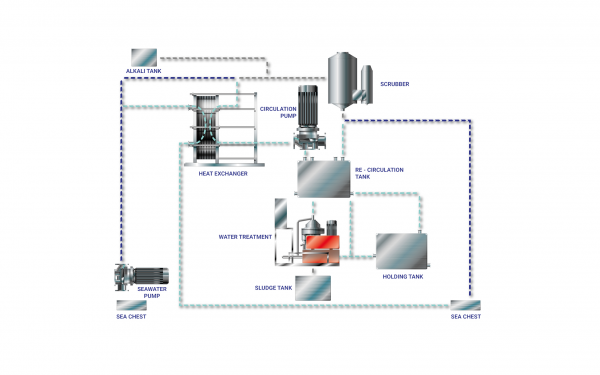 Tritec Marine offers environmentally-friendly scrubber solutions
Tritec Marine is supporting ship owners and operators in their quest for greener shipping and IMO 2020 regulatory compliance through an exciting partnership with Exhaust Gas Cleaning System provider, Bluesoul.
Bluesoul is a professional marine environment protection company that focuses on research and technical services for its clients.
The Company - awarded a Lloyd's Register Exhaust Gas Cleaning System Machinery General Design Appraisal as well as DNV GL AiP – provides scrubber cleaning systems capable of removing more than 98% of vessel exhaust gas sulphur oxide emissions.
As Bluesoul's Europe and Singapore sales agent, Tritec Marine also offers clients engineering support with their installation.
David Scott, General Manager, Tritec Marine said: "Bluesoul is an emerging company full of passion and capability.
"Our collaboration forms a perfect partnership as our respective expertise offers the client a seamless integration of a system which will not only fulfil their obligations to IMO 2020 standards but will more importantly contribute to a cleaner environment."
Bluesoul's scrubbers are compatible with all vessel types, including cruise liners, tankers, gas carriers, general cargo ships, container ships and RoRo vessels.
Yao Hao, Chairman, Bluesoul, added: "We are honoured to cooperate deeply with Tritec Marine, and strive together for better technology and services for the betterment of the marine environment."
Bluesoul recently secured agreements to fit closed loop systems to an ENTMV Ro-Pax Ferry, as well as several supermax bulk carriers, owned by an undisclosed client.
For more information on the services available, please visit our Exhaust Gas Cleaning System service page.