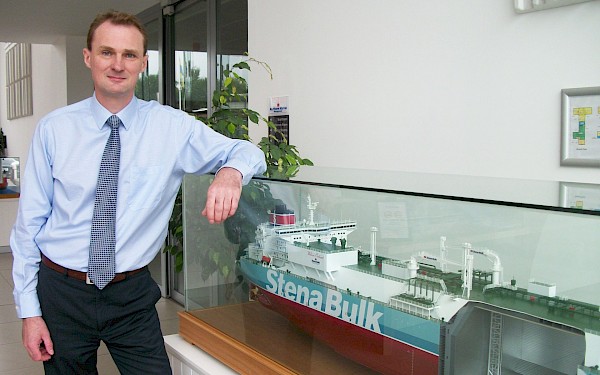 Tritec at 40 years: Our Past, Our Future
Tritec Marine is this year celebrating its 40th anniversary. We mark the occasion by asking David Scott, General Manager, (pictured) how far the Company has come in that time and what the next 40 years holds for the business.
Tritec Marine is 40 years old. What has changed in that time?
The biggest change is the growth and broadening of the services we provide. Naval Architecture has always been at the heart of Tritec Marine, but over time our Clients have requested a much more holistic service. Clients now prefer to offload a problem and receive back a fully inclusive solution, therefore we have broadened our service offering to achieve this.
Other significant changes would include our ability to provide the services typically sought by the offshore oil and gas industry thereby not limiting us to just marine services.
Obviously technology has had a major effect on our industry and over the years Tritec Marine has ensured it keeps up with the rapid pace of change. This is reflected today in the state of the art technology we use on a daily basis. Perhaps the leap in technology from the company's beginnings is most evident in our computational fluid dynamics and finite element analysis services.
What services do you now typically provide?
Naval Architecture remains highly in demand albeit we are in the process of rebranding this service as Engineering and Consultancy to reflect a wider more advanced level of service
About 10 year ago we moved into Newbuilding Supervision in the South Korean and Chinese shipyards. This service has evolved to provide our Clients, typically with complex ships, a full project management service starting with feasibility right through to site execution and delivery. You have to have significant resources across every kind of marine discipline to be able to deliver this level of service.
A surprising growth area for us is providing high quality, highly visual operations manuals. These manuals describe the unique operating characteristics of a newly built ship, which is particularly useful when the operational design is quite unique.
Of course, we continue to support our sister company Northern Marine Ltd by providing their fleet with planned maintenance systems, incorporating stock control, and purchasing functions.
You say Engineering and Consultancy provides an advanced level of engineering service. What has changed to achieve this?
Firstly we have to explore the root of this decision. With Tritec Marine's development from a small company to a larger one there is an inevitable new level of competition.
We aim to offer a better service than our competitors, which has formed the key driver of introducing new levels of expertise in finite element analysis, hydrodynamics, computational fluid dynamics and stability. To complement these services we have also introduced a much more modern approach to our computer aided design capabilities.
All this takes significant investment in skilled and experienced Engineers, supported by advanced software and hardware. The growing demand for these services tells us we made the right decision.
You provide Newbuilding services. What make your service different to your competitors?
Our Clients are looking to build new ships or offshore assets, perhaps infrequently or for the first time. Tritec Marine can fulfil a lengthy number of requirements in this Newbuilding process including the selection of appropriate shipyards, project execution planning, project risk evaluation and design specifications development. We offer further solutions for the remaining stages including shipyard supervision team management and successful delivery. We are often asked to also provide full planned maintenance system databases and operations manuals.
In addition, some Clients will request we supply skilled resources for their own project teams. Our ability to inject new building technical and commercial experience from day one, supported by advanced engineering capabilities and complementary products packages differentiates us from our competitors. In short, a truly one stop shop.
What is the vision and strategy for Tritec going forward?
Growth, simply put. In order to successfully grow we need to innovate and keep one step ahead in the industry we operate. This takes a lot of effort and dedication but with such a great team already in place, we are well on our way.
Whilst Tritec Marine as a company was not negatively impacted by the down turn in the offshore oil industry, in fact quite the opposite, it does serve to remind how essential it is to serve a wide market demographic and not to become affiliated with one market sector. There will always be cyclic peaks and troughs in this industry so the wider you spread your capability and offering across the wider market, the more stable your business will be. That is the vision.
The strategy comes down to leg work and a whole lot of listening. This means visiting existing Clients whilst seeking out new ones and acting effectively to fulfil their needs. You really need to be one step ahead and that can only happen if you are listening carefully. 
Whilst the core principles remain, Tritec Marine has grown and developed over the last four decades. With effective strategy and a lot of hard work, I am confident our company will continue to grow over the next four decades and our clients will continue to enjoy first class services which fulfil their needs.