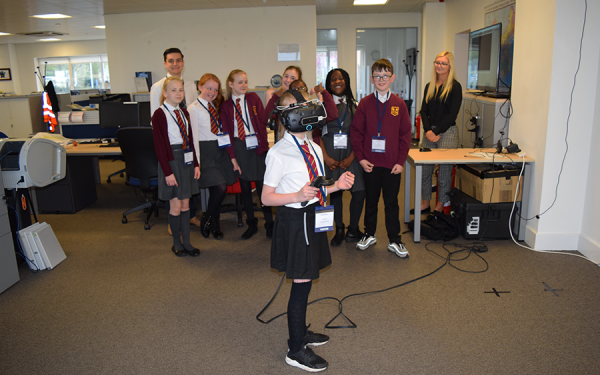 School pupils visit Tritec Marine
Glasgow primary school pupils were welcomed into Tritec Marine's head office as part of a careers learning experience
The 10- and 11-year olds from St Martha's Primary School in Glasgow learned about virtual reality engineering during a visit coordinated by the Northern Marine Group (Tritec Marine's parent company) and the Sir Thomas Lipton Foundation.
Three challenging sessions offered the pupils the opportunity to experience a working scenario in both bridge and engine room simulators and hover onto a virtual chemical tanker, created by Tritec Marine.
Eve, aged 10, said: "It was fun and interesting and the practical experiences could lead to a future career."
Laurence Brady of Sir Thomas Lipton Foundation thanked Northern Marine for supporting the expedition.
He said: "We are delighted to work closely with the fantastic team at Northern Marine Group in Clydebank for the visit of St Martha's Primary School who are participating for the second time in our sea change programme called Buoyed Up.
"The Primary 6 pupils had the opportunity to learn first-hand about the maritime world of work. The whole experience helps the pupils better understand what future work opportunities there are and what skills are needed."
For more information on the Sir Thomas Lipton Foundation and the Buoyed Up programme, please follow on Twitter @BuoyedUpLipton or visit http://www.sirthomasliptonfoundation.org/sir-thomas-lipton-foundationhomepage.html