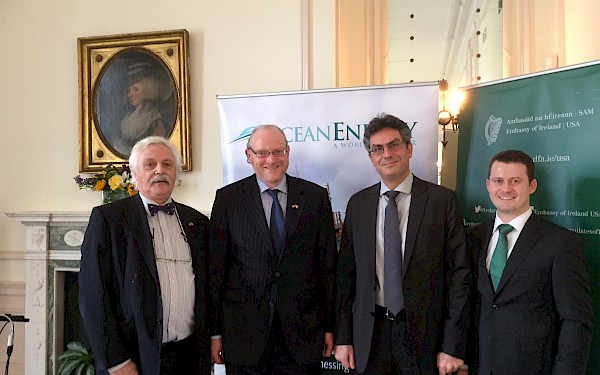 Landmark wave energy device to come to life
Tritec Marine's renewable energy platform designs will come to life as a landmark construction project is announced in the Irish Embassy in Washington DC.
Ireland-based wave energy conversion company Ocean Energy has announced its "OE Buoy" marine hydrokinetic convertor will be built in Oregon and deployed for testing at a US Navy wave energy test site off Hawaii.
Production of the 826-ton device is part of a $12 million project part-funded by the US Department of Energy's office of Energy Efficiency and Renewable Energy (EERE) and the Sustainable Energy Authority of Ireland (SEAI), under an agreement committing the American and Irish governments to collaborate on marine hydrokinetic technologies.
Representing Tritec Marine as designers of the device, George Mermiris, Technical Manager joined representatives from Ocean Energy, fabricator Vigor as well as officials from both the US and Irish governments, at the special announcement in Washington DC on January 31st.
George said: "The OE Buoy will be the largest wave energy device ever built in the US.
"Over time, the design has matured substantially and the latest round of engineering analysis conducted by Tritec Marine included global finite element analysis, coupled with hydrodynamic loading, and mooring design.
"This resulted in a set of drawings based on which the device will be fabricated.
"It was an honour to be invited to our client's official announcement in Washington DC which is of significance to both the US and Irish Government energy departments."
Tritec Marine modelled and analysed the way the device will perform in real ocean conditions.
George added: "The knowledge and insights obtained from this exercise allowed us to adjust and reinforce the design in order to ensure successful deployment and operation."
Simon Coveney, Irish Deputy Prime Minister and Minister for Foreign Affairs and Trade, said, "Building on the Irish‐US government MoU for collaboration on marine and hydrokinetic energy technologies' research, Ocean Energy and its partners are demonstrating how transatlantic cooperation can yield immensely productive results."
The "OE Buoy" will measure 125 x 59 feet with a draft of 31 feet and has a potential rated capacity of up to 1.25 MW
ENDS
Pic LtoR: Professor Tony Lewis (OE Chief Technology Officer), Mr John McCarthy (OE CEO), Dr George Mermiris (Tritec Marine Technical Manger), Dr Keith O'Sullivan (OE Operations Manager)