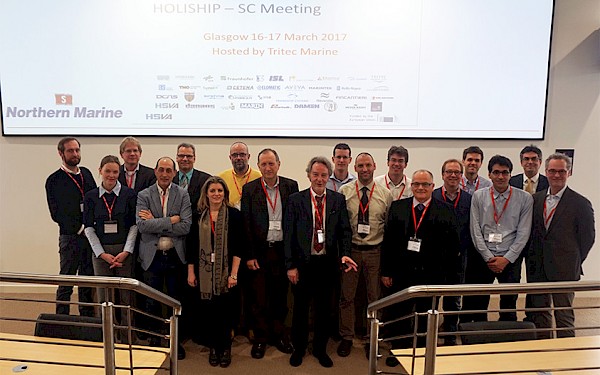 International delegation welcomed
Tritec Marine welcomed representatives from a consortium of European maritime companies to Alba House recently as part of a collaborative research and development project.
The HOLISHIP (HOLIstic optimisation of SHIP design and operation for lifecycle) project has brought together companies - each with their own specialised skills and resources - in an attempt to create improved industry design tools for ships and offshore structures.
Twenty delegates spent two days at the office, during which they were offered a tour of the Alba House and Scotia House facilities.
George Mermeris, Tritec Marine, Technical Manager, said the event was a success.
He added: "The objective of the meeting was to hold the bi-annual Steering Committee get together.

"The project is split into work packages and the Committee is comprised of work package leaders and the project coordinator.
"As expected, project progress was discussed in terms of technical deliverables, project management and dissemination activities."
Tritec will lend its considerable new-building experience in a number of work packages, with objectives ranging from ship design feasibility and operational experience, up to initial ship sizing and systems configuration.
Thirty nine companies in total are participating in the project which began in September 2016 and is scheduled to take four years to conclude.
For further information and contact please visit: http://www.holiship.eu/